Information (e.g., entry forms, results and photos) for running races (e.g., 5K, 10K, 10M, half marathon), both road races and multi-terrain, that are in Oxfordshire, Berks and Bucks, parts of Glos, Hants, Northants and Wilts, ... Generated: Fri 01 Jan at 10:46:14 GMT
Make a note of www.oxonraces.co.uk and go there if you can't get to this website.
Gloucester 10K is NEARLY FULL. Although earlier full, there were "17 places left at 1000 on Nov 17th". Here's a link to more details.
Free photos of runners.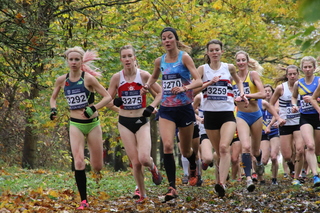 I took photos at the Chiltern XC League Match at Teardrop Lakes in Milton Keynes. The event was also the second race of the 2017-18 British Athletics Cross Challenge and a competition between the RAF and Oxford University. I only took photos at the last four races of the event. All the photos of this event have now been uploaded. Click on the Photos link in the above menu to see the photos that I took at this event and at lots of other local running events during 2014-17. These photos can be downloaded free of charge.


Ho ho ho! This website only has Santa Runs that are near Oxfordshire that are not listed on www.santadash.co.uk.
Latest postal/online entry forms. Oxford Self-Transcendence Race 1, Oxford Town and Gown 10K, Gloucester 10K (from Quedgeley), Northampton Half Marathon, Banbury 15, Bedford Twilight 10K, Chalgrove Festival 10K, Stratford's Big 10K, Battlefield Run, Oakley 20M.
Recent results. Grand Union Half Marathon - Autumn, Draycote Water 10Ks Race 2 - November, Chiltern XC League Match 2 - Teardrop (MK), Raceways Shakespeare Marathon/Half/10K/5K - Autumn, Reading Rivermead 10K, Oxfordshire XC Round 1 - Newbury, Burnham Beeches 10K and 5K, Marlow Half Marathon and 7M, Guy Fawkes 5, Tough 10 - Oxfordshire
Missing results. Please email me if you know where there's a web page giving the results for: Thames Valley 5K, Windsor Brewery - British Beer Run.
Keep up-to-date. Follow @oxonraces on twitter as it's sent a tweet whenever there's a new entry form or a new set of results.
About this website. When necessary, the contents of www.oxonraces.com is copied to www.oxonraces.co.uk. So you can use either. One is in the USA: the other is in Amsterdam. If you have configured preferences on this website, you'll need to do that again on the other website. Details about how to use this website (including its use of cookies) can be obtained by clicking this About link. If you find information on these pages that is wrong or missing, please email me. Also email me if you want to send praise!
Other regional lists. For races near North East England, visit www.northeastraces.com. For Sussex, visit www.sussexraces.co.uk.
If you click on the button to remember the postcode, this web site will use a cookie. Although cookies have been used by web sites for many years, a change to the UK law in May 2011 means that a web site now has to ensure that you agree to a cookie being created. If the cookie has been set and you wish to change your mind, you will be able to remove it by clicking the delete the cookie button.
Click on a pushpin to get more details about a race.
Credits and small print. This web page needs to find the eastings and northings for the postcode. In order to do this, this web page has searched the data of OS Open Names. It has used data from . This data is Ordnance Survey data © Crown Copyright and Database Right . It is released with the Open Government Licence (OGL). This web page then needs to find the latitude and longitude that is appropriate for these eastings and northings. In order to do this, it has used the phpcoord package written by Jonathan Stott. This package is © 2005 Jonathan Stott and released with the GNU General Public License (GPL) Version 2.