Information (e.g., entry forms, results and photos) for running races (e.g., 5K, 10K, 10M, half marathon), both road races and multi-terrain, that are in Oxfordshire, Berks and Bucks, parts of Glos, Hants, Northants and Wilts, ... Generated: Tue 25 Oct at 18:21:52 BST
Make a note of www.oxonraces.co.uk and go there if you can't get to this website.
BST ends. You can have an extra hour in bed on Sunday October 30th. If you forget, you'd be one hour early for a race!
Photos at races.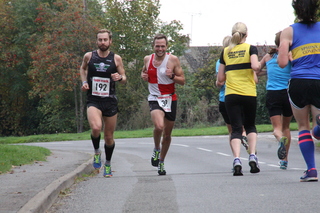 The latest race at which I've taken photos is Race 1 of the Tempo Winter Series at Ilmington in Warwickshire. All the photos of this race have now been uploaded. Click on the Photos link in the above menu to see the photos that I took at Ilmington and at lots of other local races. The photos I took at Ilmington and most of the other recent races are also available on Facebook.


Cross Challenge at MK. The Chiltern XC League at Teardrop Lakes in Milton Keynes on Nov 12th "is held in conjunction with the UKA Cross Challenge. Athletes who want to do both will need to enter the Cross Challenge before the entries close on Oct 28th."
Ho ho ho! This website only has Santa Runs that are near Oxfordshire that are not listed on www.santadash.co.uk.
Latest postal/online entry forms. Hooky Christmas Canter, Wolverton 5, Oakley 20M, Woodcote 10K, Oxford Christmas Fun Run, Slaughterford 9, Combe Gibbet to Overton 16M XC Race, Beaconsfield 5, Oxford Fun Run, David McNamee Memorial 10K Run, Winchester Half Marathon, Marlow 5, Banbury 15, Watford Half Marathon, Draycote Water 10K August, Draycote Water Half Marathon, Rugby Santa Run.
Recent results. Draycote Water 10 October, Rotary Blenheim 10K and 5K, Stroud Half Marathon, Holdenby Run, Abingdon Marathon, Fleet 10K and 5K, Richmond Park 10K/5K Series Race 6, Tempo Winter Series - Race 1, Water of Life 10K and Half Marathon, Frieth Hilly 10K and 5K
Missing results. Please email me if you know where there's a web page giving the results for: Swindon Brighter Futures Radiotherapy Appeal Run, Burnham Beeches 10K and 5K, Ruck Up Run, Devizes Roundway Rampage, Stowe Half Marathon and 10K.
Keep up-to-date. Follow @oxonraces on twitter as it's sent a tweet whenever there's a new entry form or a new set of results.
About this website. When necessary, the contents of www.oxonraces.com is copied to www.oxonraces.co.uk. So you can use either. One is in the USA: the other is in Amsterdam. If you have configured preferences on this website, you'll need to do that again on the other website. Details about how to use this website (including its use of cookies) can be obtained by clicking this About link. If you find information on these pages that is wrong or missing, please email me. Also email me if you want to send praise!
Other regional lists. For races near North East England, visit www.northeastraces.com. For Sussex, visit www.sussexraces.co.uk.
---