Information (e.g., entry forms, results and photos) for running races (e.g., 5K, 10K, 10M, half marathon), both road races and multi-terrain, that are in Oxfordshire, Berks and Bucks, parts of Glos, Hants, Northants and Wilts, ... Generated: Sat 25 Feb at 18:51:55 GMT
Make a note of www.oxonraces.co.uk and go there if you can't get to this website.
Photos at races.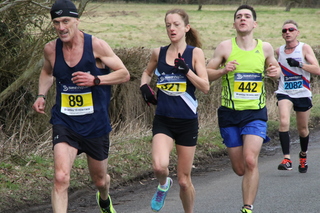 The latest race at which I've taken photos is the Bramley 20/10. All the photos of this race have now been uploaded. Click on the Photos link in the above menu to see the photos that I took at the Bramley 20/10 and at lots of other local races during 2014-2017.



Runners World. The Runners World website has been drastically changed. Some of the races listed below have onlineEntry links that go to Runners World. When you click on the onlineEntry link, you still get a web page at RW but it's completely different from what it used to look like. If online entry is available, it should have a Tickets frame where you first indicate how many affiliated/unaffiliated tickets you want to buy and you then click the "ORDER NOW" button. However, currently this Tickets frame doesn't appear for 6 races where RW used to provide online entry. I guess this is a teething problem and the Tickets frames will appear later. For the races where there is a Tickets frame, my experience with the Firefox browser is that occasionally only the top part of the frame appears. If this happens, press F5 or Refresh or Reload. I haven't seen this problem with the Chrome browser.
Latest postal/online entry forms. Cheltenham Challenge, Ramsbury 5, Hercules Festival of Sport - Northwood, Moreton Morrell Christmas Cracker, Mad March Hare (Great Horwood), Mad March Hare (Swindon), Englefield 10K, Massey Ferguson RC Tractor 10K, Tysoe Windmill Run, Ollie Johnson Memorial Kintbury 5, Prestwood 10K and 5K, Stroud Trail Marathon and Half, Silchester Village Trail Fun Run, Harewood Forest 10K/5K, Tadley Xmas XC, Tadley Reverse 10M, Tim's Tadley 10k, Hurstbourne 5, Blenheim 7K, Amport Trail Run 10K/5K/3K, Appleshaw 10K and 5K, Hooky 6.
Recent results. Run for Rotary Valentine 10K, Hillingdon Half Marathon and 10K, Bramley 20/10, SMaRTT Smasher 10k, Tempo Winter Series - Race 5, Chilly 10k - February, Windsor and Eton Winter Fun Run Series Event 2, Staverton 10, Slaughter Valentine's 10K, Chiltern XC League Match 5 - Campbell Park (MK)
Missing results. Please email me if you know where there's a web page giving the results for: Reading 5.
Keep up-to-date. Follow @oxonraces on twitter as it's sent a tweet whenever there's a new entry form or a new set of results.
About this website. When necessary, the contents of www.oxonraces.com is copied to www.oxonraces.co.uk. So you can use either. One is in the USA: the other is in Amsterdam. If you have configured preferences on this website, you'll need to do that again on the other website. Details about how to use this website (including its use of cookies) can be obtained by clicking this About link. If you find information on these pages that is wrong or missing, please email me. Also email me if you want to send praise!
Other regional lists. For races near North East England, visit www.northeastraces.com. For Sussex, visit www.sussexraces.co.uk.
---