Information (e.g., entry forms, results and photos) for running races (e.g., 5K, 10K, 10M, half marathon), both road races and multi-terrain, that are in Oxfordshire, Berks and Bucks, parts of Glos, Hants, Northants and Wilts, ... Generated: Tue 27 Sep at 11:16:51 BST
Make a note of www.oxonraces.co.uk and go there if you can't get to this website.
Croome Capability Canter OPENS and FILLS on MONDAY. Entries for the Croome Capability Canter will open at 2100 on MONDAY (Oct 3rd). "Set a reminder as last year's 350 places sold out in 58 minutes!" Use this link for more details about how to enter the race. "The course is a 6.5 mile 'undulating' off-road course around the beautiful scenery of Croome Park, designed by renowned 18th century landscape architect Lancelot 'Capability' Brown." Croome Park is between Worcester and Evesham - it's about 60M from Oxford.
Photos at races.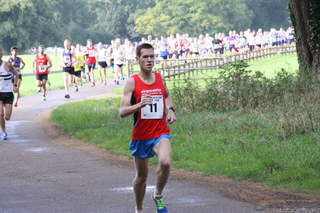 The latest races at which I've taken photos are the Cirencester Park 10K and the Woodstock 12. All the photos of these races have now been uploaded. Click on the Photos link in the above menu to see the photos that I took at these races and at lots of other local races. Most of the photos taken at recent races are also available on Facebook.

Ho ho ho!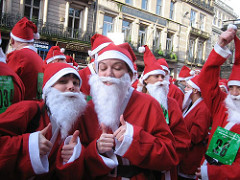 There is a list of Santa Runs at www.santadash.co.uk. I've decided not to include on this website those near Oxfordshire that are listed at www.santadash.co.uk. So to find a Santa Run near you, go to www.santadash.co.uk. This website only has Santa Runs that are near Oxfordshire that are not listed on www.santadash.co.uk. This photo of a santa run is by 'and in 9th place...'.


Latest postal/online entry forms. Thorpe Park Half Marathon, Bromham Pudding Run, Burnham Beeches Half Marathon and 10K, Stanwick Lakes Santa Run, Berks Bucks and Oxon XC Championships, Watford Mencap Santa Dash, Draycote Water Santa Dash, Bramley 20/10, Royal Windsor Half Marathon and 10km Trail Runs, Greys Green Charity 10k Trail Race.
Recent results. Farleigh Wallop Trail Race, Moor Park 10k, Cheltenham Half Marathon, Run for Rotary 10K, Ealing Half Marathon, Milton Keynes NSPCC Half Marathon and 10K, Winchester Half Marathon, Highclere 10K, Mortimer 10K, Windsor Half Marathon, Cirencester Park 10K, Woodstock 12, Longworth 10K, Running4Women Windsor 10k, Ridgeway Run (Ashbury), Aston Subedge Harvest Marathon and Half, Daddy Beast and Mummy Beast
Missing results. Please email me if you know where there's a web page giving the results for: Kidlington Fun Run 5K, Stowe Half Marathon and 10K, The Bounder, Henley Highwayman, September Whipsnade Zoo Stampede, Great Kirtlington Challenge, Welling10k 'Race with Soul' Fun Run, Killermetre 10K and 5K, Tewkesbury 10K, Finmere Festival 5K Fun Run, TRIBE Run Free Festival.
Keep up-to-date. Follow @oxonraces on twitter as it's sent a tweet whenever there's a new entry form or a new set of results.
About this website. Every 15 minutes, the contents of www.oxonraces.com is copied to www.oxonraces.co.uk. So you can use either. One is in the USA: the other is in Amsterdam. If you have configured preferences on this website, you'll need to do that again on the other website. Details about how to use this website (including its use of cookies) can be obtained by clicking this About link. If you find information on these pages that is wrong or missing, please email me. Also email me if you want to send praise!
Other regional lists. For races near North East England, visit www.northeastraces.com. For Sussex, visit www.sussexraces.co.uk.
---