Information (e.g., entry forms, results and photos) for running races (e.g., 5K, 10K, 10M, half marathon), both road races and multi-terrain, that are in Oxfordshire, Berks and Bucks, parts of Glos, Hants, Northants and Wilts, ... Generated: Sun 10 Dec at 18:47:50 GMT
Make a note of www.oxonraces.co.uk and go there if you can't get to this website.
Free photos of runners.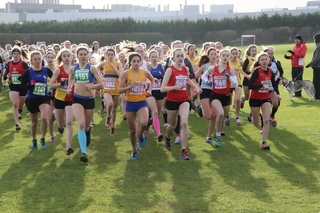 I took 3216 photos at the SEAA Masters and Inter County XC Championships. All the photos of this event have now been uploaded. Click on the Photos link in the above menu to see the photos that I took at this event and at lots of other local running events during 2014-17. These photos can be downloaded free of charge.


New route for the Hooky Christmas Canter.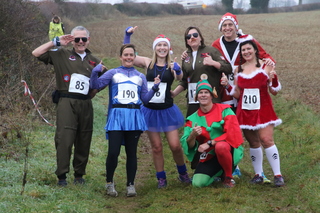 The Hooky Christmas Canter is on Sunday December 17th. If you've not already entered, then unfortunately you're too late as the race was full by December 2nd. This photo shows some "runners" posing at last year's race!! This year's 7(ish) mile course has a new route. Some bits are the same. Hook Norton Harriers have kindly supplied me with this course map of the new route.


Ho ho ho! This website only has Santa Runs that are near Oxfordshire that are not listed on www.santadash.co.uk.
Latest postal/online entry forms. Ellenden Farm Frolic, All Nations 5K and 10K, Boxing Day Challenge, Mayday Mayday 10K, Stroud Trail Full, Half and Quarter Marathon, Northampton 10K, Bracknell Half Marathon, Tewkesbury Half Marathon, Ampthill Trophy Cross Country 10K, Wokingham 5K/10K, ARC South West Chilly Road Relays, Run the Claydons, Resolution Run Swindon, Resolution Run Watermead, Resolution Run Thruxton, Original Oxfordshire 21K/15K/8K, Old Sodbury Scramble, Alton 10.
Recent results. Tadley Xmas XC, SEAA Masters and Inter County XC Championships, Oxfordshire XC Round 2 - Carterton, Bedford Harriers Half Marathon, Nether Heyford Santa Run, Bromham Pudding Run, Mapledurham Ten 10M/10K, Chiltern XC League Match 3 - Luton, Stanwick Lakes Santa Run, Gloucester 10K (from Quedgeley)
Missing results. Please email me if you know where there's a web page giving the results for: Watlington XC XK, Rugby Santa Run, Swindon Reindeer Run.
Keep up-to-date. Follow @oxonraces on twitter as it's sent a tweet whenever there's a new entry form or a new set of results.
About this website. When necessary, the contents of www.oxonraces.com is copied to www.oxonraces.co.uk. So you can use either. One is in the USA: the other is in Amsterdam. If you have configured preferences on this website, you'll need to do that again on the other website. Details about how to use this website (including its use of cookies) can be obtained by clicking About. If you find information on these pages that is wrong or missing, please email me. Also email me if you want to send praise!
Other regional lists. For races near North East England, visit www.northeastraces.com. For Sussex, visit www.sussexraces.co.uk.
---