Information (e.g., entry forms, results and photos) for running races (e.g., 5K, 10K, 10M, half marathon), both road races and multi-terrain, that are in Oxfordshire, Berks and Bucks, parts of Glos, Hants, Northants and Wilts, ... Generated: Sun 21 Jan at 15:45:37 GMT
Make a note of www.oxonraces.co.uk and go there if you can't get to this website.
Photos of Race 4 of the Tempo Winter Series.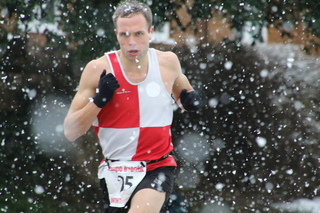 Today I took photos at Race 4 of the Tempo Winter Series. These photos are currently being uploaded. They will be released an album of photos at a time. Click on the Photos link in the above menu to see the albums that have been uploaded so far. My internet connection is slow today - I expect the last album will be available at about 5.30pm.



Finding out how far it is to each race.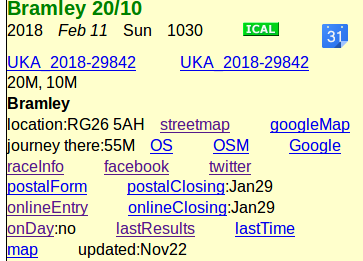 This web page enables you to set a preference for your "home town" that is used for each visit to this web page. If you do this, then each advert on the web page also has a "journey there" section that (a) reports how far the race is from your home town and (b) has links to maps showing you how to get to each race. Here's a link to a web page describing how to set a home town.


Free photos of runners.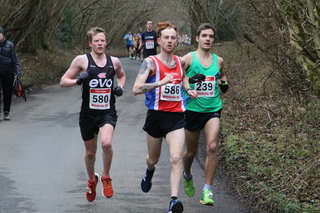 I took 1782 photos at the Woodcote 10K. All the photos of this event have now been uploaded. Click on the Photos link in the above menu to see the photos that I took at this event and at lots of other local running events during 2014-18. The photos of this event and some of the other events are also on Facebook. These photos can be downloaded free of charge.

Latest postal/online entry forms. Dauntsey 10K, Mad March Hare 5K (Great Horwood), Hook 10K and 10M, FixAddiction Summer 5k and 10k, Stanwick 10K, Womens Running 10K and 5K - Milton Keynes, Marlow 5, Milton Keynes 10K, Harborough 5, Weedon 10K, Banbury 5, Corby 5, Rugby 6, Blisworth 5, Silverstone Grand Prix 10K, Wycombe Half Marathon and 10K, Chilly 10K - November, Runnymede Runners Relay Race, Run Dorney 5K, 10K and Half Marathon.
Recent results. Tempo Winter Series - Race 4, Fred Hughes 10, January Dorney Lake Winter Half, January Dorney Lake Winter 5K/10K/15K, ARC South West Chilly Road Relays, Gloucester Half Marathon, Gloucester Marathon, Chiltern XC League Match 4 - Bedford, Draycote Water 10Ks Race 4 - January, Not the Roman IX
Missing results. Please email me if you know where there's a web page giving the results for: Abingdon 10K, Linda Franks 5 mile, Boxing Day Fun Run and Walk.
Keep up-to-date. Follow @oxonraces on twitter as it's sent a tweet whenever there's a new entry form or a new set of results.
About this website. When necessary, the contents of www.oxonraces.com is copied to www.oxonraces.co.uk. So you can use either. One is in the USA: the other is in Amsterdam. If you have configured preferences on this website, you'll need to do that again on the other website. Details about how to use this website (including its use of cookies) can be obtained by clicking About. If you find information on these pages that is wrong or missing, please email me. Also email me if you want to send praise!
Other regional lists. For races near North East England, visit www.northeastraces.com. For Sussex, visit www.sussexraces.co.uk.
---